Back to blog posts
Published on the 21.06.2019
Do we give too much importance to diploma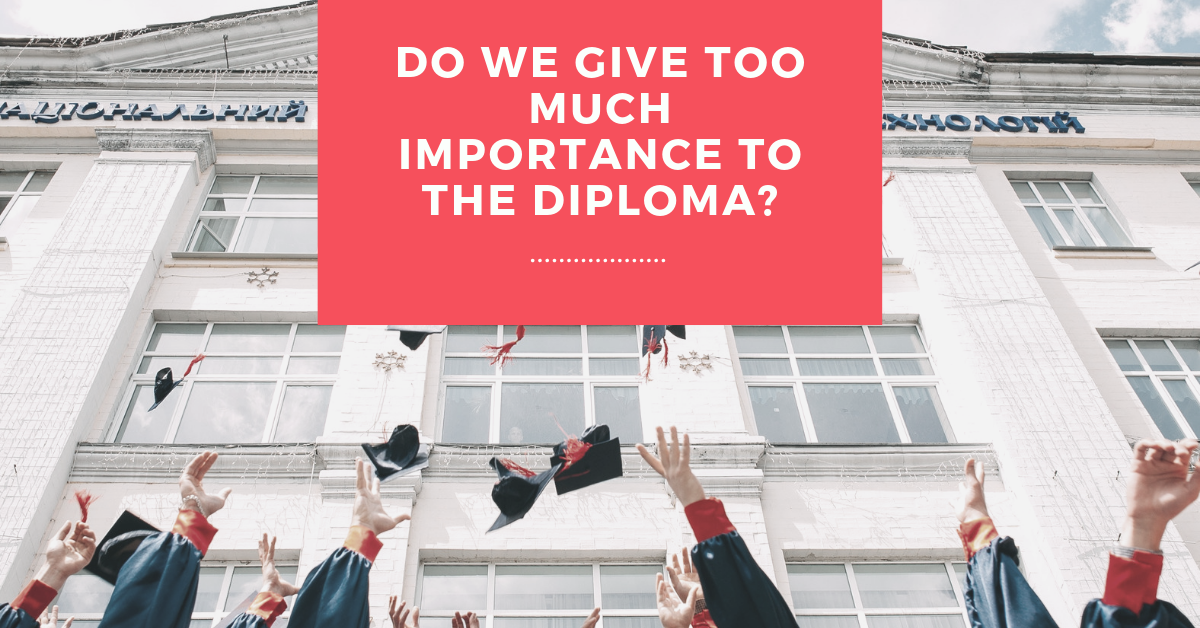 Now that we reached the end of the school year, it is interesting to ask ourselves a question that agitates today all the actors of Education: do we give too much importance to the diploma? What is the role of employers in this phenomenon?
In our previous white paper we talked about the fact that companies have their responsibility in the skills gap phenomena. Why?
First of all because, as this European Commission study shows , it was observed that a majority of employers asked new graduates for experience, too much experience given their learning experience.
The problem is that at the same time, in addition to this demand for experience, many companies select their candidates according to their degree. This is not a secret, but this practice can be destructive for both young graduates and businesses.
Why ?
For companies, this simply means missing out on talent and lacking intellectual and technical diversity in their teams. This also illustrates that they privilege the label on the skills.
For young graduates, it is much more serious. Unemployment, loss of confidence, stress, loss of meaning, feeling of injustice compared to the leavers of "elite institutions" preferred by companies.
But that's not all. To judge on the diploma is to judge on ... the grades of the learners. In other words, it amounts to creating even more pressure on the shoulders of students when they take their exams.
This amounts to pushing the institutions to multiply the exams, which more are standardized exams, which will have no impact on the learning, rather only on the average, on the quality of the file of the learners who will have a significant weight for their first professional experiences.
These standardized exams are a problem, we explained it. They have a real impact, particularly negative, on the learners as explained in this video.
As Noam Chomsky explains, these exams are "a shot in the foot for teachers who lose any opportunity to really understand the learning cycle of students, which is the primary goal of evaluations." Worse, Chomsky explains that the multiplication of these exams is an obstacle to the creativity of teachers in both pedagogy and exam design. According to him, one arrives at "a loss of connection between professors, administration and students".
Not so fast, trends show that it is clearly and quickly changing. According to a study by the OFEM (Observatory of the training of employment and trades of the Chamber of Commerce and Industry of Paris), if more than 60% of large companies ask for a bac +5 at least, more than 70% of small businesses and SMEs (among which tech startups) require a bac +3 or less.
From diploma, we observe a pivot towards experience and skills (soft skills for example). According to the same study, 80% of the companies surveyed consider alternation as essential and 56% of companies have already implemented it.
According to Thomas Lesenechal, Head Manager of Growth Tribe France, companies have their share of responsibility in the digital skills gap, particularly because of problems of bad recruitment.
The goal of these companies should be to "hire people looking to build skills. And rather to have only the first of the class, to look for different profiles, not being all business schools and having more atypical and autonomous profiles. This is how we create cohesion and mutual learning among employees."
Check out our podcast with Thomas Lesenechal below!
The management of skills and training of learners is not an easy task and we are all faced with this challenge. And you ? How do you see the evolution of the degree? How do you manage your training?
Feel free to relay this article and start the debate !
For more information on the subject, we invite you to take a look at our white paper on the skills gap !